You won't be amazed to see the How Digital Marketing is Flattering option for Digital Marketers, Agency Owners, Freelancers & Big Brands.
You can say Digital marketing has given an exponential curve to the Market Industry in recent Years & you won't be surprised if I would say that Digital Marketing in 2023 can be one of the leading factors for economic Growth.
So, if you're one who has been thinking about the scope of digital marketing in the future by being part of this phenomenal Industry then here you go. start your career in this never-ending field with This 5-MINUTE read will show you the SCOPE of Digital Marketing In 2023 & help you take a clear decision for your career.
Digitalization In the Market!
Well, you might be afraid of over-competition, it might be a reason that you want to know the scope of digital marketing in 2023
Just like YOU, I got the same curiosity for the answer to this question. And after researching, I got AMAZING STATS for your question that will give you clarity on the scope of digital marketing
This is because the number of active users is going to reach 666 million in India and more than 5.3 billion worldwide.
This indicates an online shift for a larger proportion of people, making it prudent and advantageous for RETAIL BRANDS to enter the digital marketing space indicating the scope of digital marketing in India.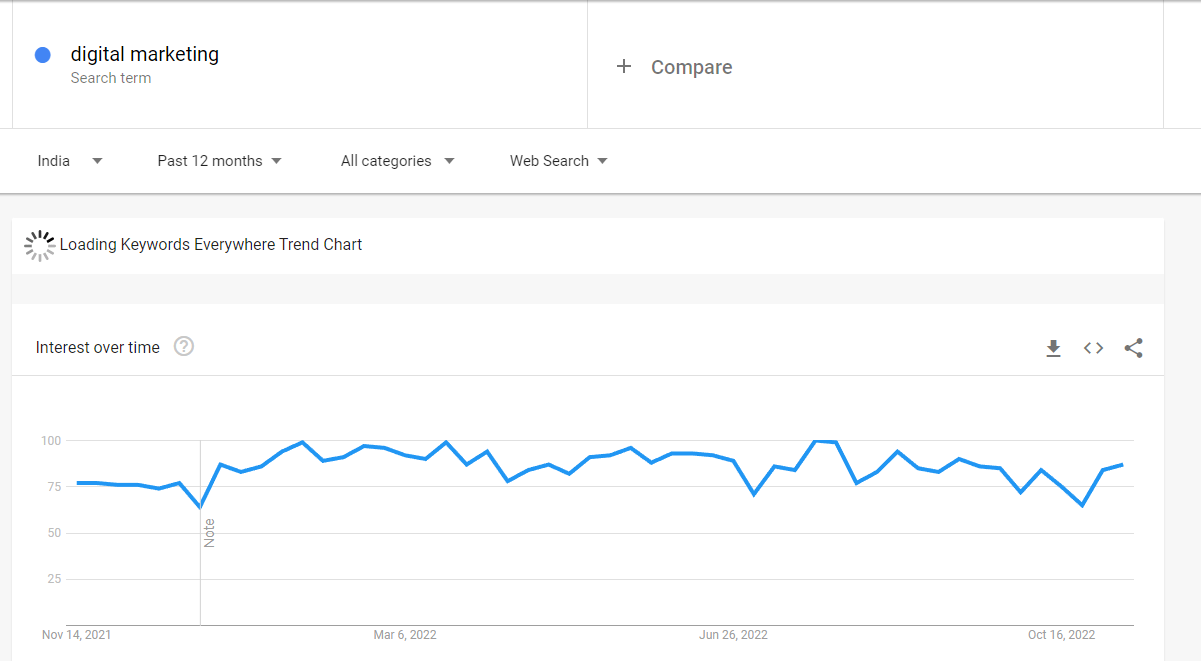 Even the largest corporations are restructuring their marketing budgets in order to SHIFT their focus to digital.
According to statistics, the Indian e-commerce market will reach Rs 7 trillion in 2023 as a result of the pandemic and multiple lockdowns. This strongly suggests that the growth of digital marketing is on the rise and has benefited both businesses' and people's lives.
The future of digital marketing appears BRIGHT and SECURE. The fundamental principle for every business right now is to carve a niche for themselves in the digital world with the assistance of creative, innovative, and up-to-date digital marketers.
This UPWARD trend in digital marketing growth is here to stay. More opportunities are expected to emerge, and meeting consumers' newly formed demands will become increasingly important.
The next generation will be raised in the digital age, accustomed to doing everything online. Organizations and businesses will invest in digital marketing now in order to cater to these FUTURE customers.
The Advantages of Digital Marketing for Retail Brands
Companies are using digital marketing to connect with their potential customers on a global scale, engage with them, create brand awareness, promote and sell products and services at reasonable prices, and earn a higher ROI.
A well-planned and well-executed digital marketing strategy will have a significant impact on the overall PERFORMANCE of retail businesses.
Improves Customer Experience
Regardless of the size of their business, retailers will invest in digital marketing to provide the best possible user experience for their customers. This includes everything from the pre-purchase to the post-purchase experience.
To maximize the consumer's convenience and efficiency, every interaction with the brand should be a PLEASANT and SEAMLESS experience that can lead to a great scope of digital marketing in 2023.
Develops New Opportunities
With the arrival of digitalization and the advancement of technology, retail marketers now have access to opportunities that were previously unavailable.
They can now attract leads outside of their GEOGRAPHICAL boundaries, provide better support while lowering marketing costs, and much more. It is only fair for retailers to fully utilize this channel and maximize their potential and will become the reason for more scope of digital marketing in future.
Improves Brand Metrics
A strong brand presence and awareness can assist retail businesses in differentiating themselves from their COMPETITORS. This allows businesses to improve their customers' knowledge and perception of their brand by investing in brand reputation, brand awareness, and brand image.
Increases client acquisition, conversion, and retention rates: Digital platforms can help retailers in reaching the RIGHT PROSPECTS and CLIENTS in order to increase client acquisition, conversion, and retention rates. It can facilitate client interaction and engagement in order to encourage purchases.
Aids in Competition Overcoming
The scope of digital marketing in India will increase due to the most effective tools for small and medium-sized retailers. It enables them to compete effectively even with limited resources. By leveraging digital marketing SMALL-BUDGET retailers can easily promote their brand globally and reach customers across the country.
From a business standpoint, The scope of digital marketing in the future has proven to be a VALUABLE ASSET in achieving business objectives. This is evident in the ever-increasing advertising spend on digital platforms. However, businesses are still determining which Digital marketing strategies to implement.
From the perspective of a Digital Marketing agency, The scope of digital marketing in 2023 will stay and will only change forms. For example, today's brands require Facebook pages or Instagram handles to engage their COMMUNITIES, but in 5 years' time, brands may have purchased a storefront in a Decentraland or Sandbox-like metaverse environment and be engaging their communities there.
Also, Life as a student can be exhausting.
Aside from the never-ending assignments, they must concentrate on choosing the right career path that will lead to a brighter future.
Students frequently prefer digital marketing as a viable career option. According to a Goldman Sachs report, the digital marketing industry will be worth US$160 billion by 2025. This number is three times its current value.
There are several other reasons why you should choose Digital Marketing aside from a good package and consistent career growth.
1. There is a high demand for digital marketers.
According to a HubSpot survey, more than 75% of marketers believe that digital marketing campaigns have a direct impact on revenue. Because such figures entice business owners, they are constantly on the lookout for digital marketing professionals which will increase the scope of digital marketing.
Furthermore, due to its broad reach, digital marketing is in high demand. It is an excellent method for companies and businesses to reach their INTENDED AUDIENCE. Furthermore, because offline marketing can be costly, they are always looking for professionals who can help them establish a stronger online presence for their company without breaking the bank.
2. A Variety of Options
When you see the scope of digital marketing and choose a career, you are not limited to a single path. There is a lot of room for experimentation, and you can assess your ABILITIES and make appropriate choices.
Some of the best career fields in digital marketing include,
SEO Manager
Digital Marketing Manager
Content Writer/Editor
Manager of Social Media
Inbound Marketing Manager
Website Designer
SEM Manager, etc.
You can pursue any of these fields based on your SKILLS and INTERESTS, regardless of your educational background. Because of this variety and the scope of digital marketing in the future is both fun and respectable career option.
3. Growth Prospects
Did you know that in 2011, only 487.7 million smartphones were sold?
According to reports, the global smartphone user base will continue to grow and will reach 6.8 billion by 2023. Furthermore, nearly 83.72% of people use smartphones on a daily basis. This indicates a hike in the digital marketing scope and salary.
Such figures demonstrate the significance of digital reliance and how it is expected to grow. Since it has shown promising RESULTS thus far, experts believe that digital marketing as a field has only room to grow.
4. Field of Creativity
Digital marketing is for you if you are not comfortable with constant presentations and monotonous excel sheets.
As a digital marketer, you will be in charge of the creative side of the story. As a content or copywriter, for example, you will be responsible for creating creative COPY and BLOG posts for clients.
If you want to pursue social media marketing, you will be expected to create campaigns that are in line with current trends. While there will be some technicalities, the scope of digital marketing is a creative field that will not bore you.
5. Digital Marketing Scope and Salary
The bills are NOT PAID by exposure.
While digital marketing has the potential for growth, does it pay well?
It definitely does.
A digital marketing manager's annual salary is Rs. 5 LPA. While that is for new employees, experienced employees can earn up to Rs. 10 LPA.
The amount will vary depending on your SPECIALIZATION, but you will undoubtedly receive a good package.
Congratulations, Now you have clarity on the scope of digital marketing in the future and If you're reading this, it seems you're extremely serious to grow in this field.
I wish you good luck in your career.
But if you are still left with a few questions then here is a small FAQ for you.
What is the scope of Digital Marketing in 2023?
Just like Television being the biggest network to broadcast any information or do any branding, digital marketing allows you to connect with your customers worldwide just sitting at your home faster and in a cost-efficient way.
What's the average and highest salary of a Digital Marketer?
The average salary starts from 10k/month to 50k/month on an entry-level job whereas the highest salary totally depends on the experience & skills you cater in the next coming 5 to 6 years.
Which Industry Needs Digital Marketing?
Every industry needs Digitalization to brand its products and reach its customer base faster and better. Be it Food, Healthcare, Real estate, Corporates, Fashion, or any industry today everyone wants digital touch to grow their business.
Is there really a career scope in Digital marketing?
You will be shocked to know that only 4% of the market in India has been digitalized which means the rest 96% of the market is still waiting for digital transformation and there is a huge demand for digital marketers in coming years.